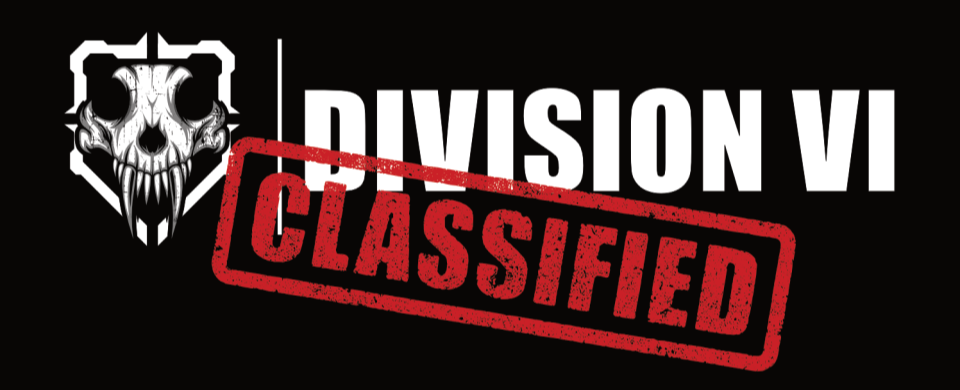 Division VI
A downloadable supplement
The information contained in this document is intended only for Division VI agents. Under no circumstances should this information be accessed by or shared with persons not privileged with Clearance Level 1.
Division VI
Division VI is an unfolding setting supplement for use with Monster of the Week, in a world where Hunters are employed by the mysterious and highly secretive organisation, Division VI, whose agents hunt down supernatural creatures who do harm to humanity, and do their best to let the mundane world stay in blissful ignorance. It's Men in Black meets SCP, worked into the episodic feel of shows like Supernatural and Buffy.
The supplement is currently in early access. At this time the supplement is incomplete. Purchasing now unlocks Clearance Code 1: Field Agent, and access to all future updates.
Clearance Code 1: Field Agent
A collection of 5 monsters and 1 minion. Each monster has a full set of stats, attacks, powers, and weaknesses, and includes flavour text to guide adding each monster to your own game. Monsters range from a classic kelpie to a parasitic cat-sìth, with creatures both original and inspired by folklore.
Included files:
8-page full-colour PDF
Mystery Planner template for use in Word/Google Docs
Please note a plaintext document will be released shortly
Future Updates
Future updates will expand on the world of Division VI, and the content offered. There is no set release schedule, but with each subsequent update the purchase price will increase.

Monster of the Week is copyrighted by Evil Hat Productions, LLC and Generic Games. This is an unofficial supplement, and unaffiliated with either Evil Hat Productions, LLC or Generic Games.

Purchase
In order to download this supplement you must purchase it at or above the minimum price of $4 USD. You will get access to the following files:
Division VI - Clearance 1 Field Agent.pdf
5 MB
Mystery Template.docx
371 kB
Exclusive content
Support this supplement at or above a special price point to receive something exclusive.
Community Copies
These copies are free for anyone who is not able to purchase the game for any reason. If the full price is outwith your budget then please feel free to claim!
Comments
Log in with itch.io to leave a comment.
Purchased. Excited to see more material. Great job :)